Every summer, new campers from a variety of backgrounds and interests are welcomed into our incredible community at Camp Champions. It's in these first few moments at camp that children experience the most growth, independence, and sense of community. To make this transition into camp life smoother and more rewarding, we implement a few practices that help new campers and families adjust to the unforgettable camp experience ahead.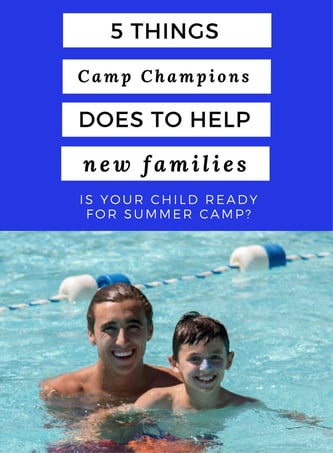 1. We have a team of experienced counselors dedicated solely to first year campers.
We are the only summer camp in Texas that hand-selects a group of veteran counselors whose sole job is to ensure new campers are having a fantastic experience throughout their first summer at Camp Champions. During the first few days of camp, these counselors are extremely diligent about checking in with first year campers to ensure they're feeling comfortable at camp, making friends in their cabins, and enjoying activities. We know that children sometimes struggle with missing home during their first summer at camp, so we've assembled a team of people who are experts on dealing with homesickness. This is a group of passionate, experienced counselors who are dedicated to helping first year campers have a smooth (and fun) transition into camp life.

2. We understand your child's goals and how to achieve these goals.
Before camp, you'll receive a personal phone call from one of our full-time directors. We will ask you about your individual goals for your child, whether it be boosting self-confidence, getting up on water skis, or improving face-to-face communication with peers. We strive to know each camper's specific goals and needs before your family even steps foot on camp property. We'll also ask you to fill out a parent questionnaire about your child that is given to his or her counselors before Opening Day of camp. To best serve your family, our counselors and directors obtain information about each camper from the beginning of camp to guarantee your child finds success here.

3. We offer many opportunities for you to get to know our camp Owners and Directors face-to-face before the summer.
We want to meet you and your child in person! Throughout the months leading up to camp, we provide many chances for you to personally meet us. We host Open Houses and camp tours in the spring before camp begins. Your family can walk around the camp property and ask questions, giving your child the comfort of knowing what camp is like before he or she shows up for the summer. We also travel across Texas to Dallas, Houston, San Antonio and Austin to meet summer camp families in their home towns. We host public informational parties so you can meet us in person and ask any questions you have, and we are always happy to meet you for coffee or ice cream so we can talk in a smaller setting. We welcome you to attend our fall Family Camp, a chance to experience camp as a family. This event takes place every September. If you live farther away and aren't able to tour camp or meet us in person, you're invited to attend one of our webinars, view our virtual home party, or read the Camp Champions blog, which will give you a good feel for what we do during the summer.
4. New campers are quickly integrated into our camp family and given opportunities to ask questions about what they don't understand.
On the first day of camp, Steve and Susie Baskin, Owners and Executive Directors of Camp Champions, invite all first time campers into their home for a cookies and milk party. During this gathering, Steve and Susie personally introduce themselves to each new camper in a more intimate environment. Then, they have a Q&A session, where new campers can ask any questions they want about camp. While the new campers are enjoying cookies and learning more about camp in the Baskin's home, their veteran cabin-mates all meet to talk about how they will make the cabin especially welcoming to their new cabin-mates. Many cabins adopt a "buddy system" that pairs first year campers with returning campers. This means that new campers can meet a friend quickly, as well as have a peer to ask any questions they have about camp.

5. Before camp begins, we provide families with a wealth of information and resources.
After you register your child for camp, we'll mail you a first time camper package. This special package is specifically designed for new campers and has various items that are not only fun and exciting, but also helpful in getting your child acquainted with camp. The package includes a camp map, a Camp Champions water bottle, a special handwritten note from one of our directors, and other fun treats. Not only will your child receive a package, but you will, too! Your package will contain a letter from our camp owners, as well as a book that we love to recommend for parents sending their children to overnight camp for the first time, Homesick and Happy by Michael Thompson. We also include a First Year Parent Guide, an in-depth manual that provides the answers to an abundance of questions relating to everything from transportation to laundry. Our goal is to provide you with as much information as possible before camp begins so that your family feels comfortable and confident in the summer camp experience.