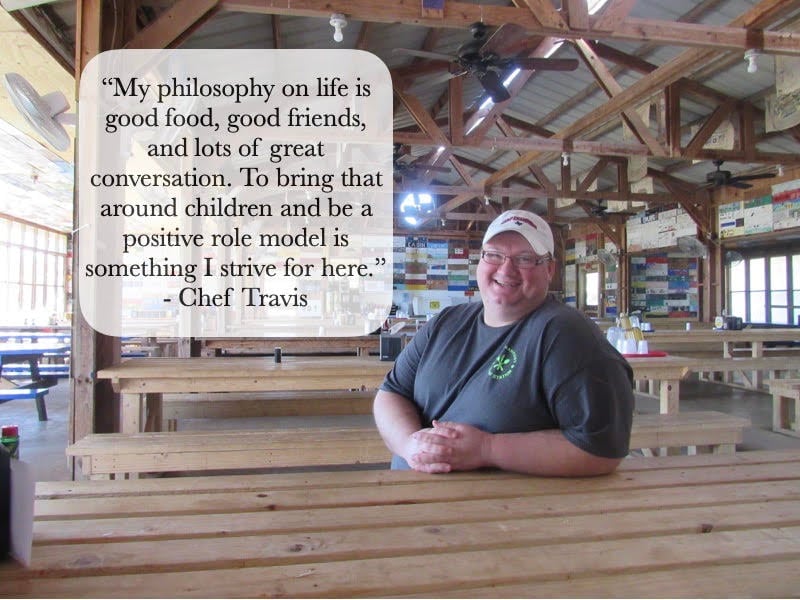 We have some unsung heroes at camp.
Today, I would like to tell you about one: Chef Travis.
Travis Mouser started with us during the summer of 2018. In fact, he joined us almost immediately before the start of that summer. That is the equivalent of becoming a ship captain during a typhoon. Learning to manage a camp dining hall and kitchen during camp is crazy.
Campers have enjoyed the food at Camp Champions for many years, but we did not fully realize what we were missing until Chef Travis joined us.
I will start by mentioning his loving approach to the campers. Every summer, we have campers with special dietary requirements. It is tough to be a kiddo with food allergies or other food-related needs. Everyone else can simply enjoy the meals seamlessly, but some campers cannot. Rather than see these campers as challenges or inconveniences, he seems them as opportunities to show compassion and care.
Just today, we received an email from an appreciative mom from first term:
"I've been talking and emailing Chef Travis quite a bit due to my daughter's allergies and I just want to say, he has been great to work with . . . my goal since [my daughter] was little was to have her be able to go to summer camp just like I did when I was her age. I really appreciate you having a chef like Travis who takes food allergies seriously and can help kids like [her] feel as normal as can be given their eating restrictions."


He takes great pride in his meals and will augment the meals with the occasional extra sauce or condiment (his spicy creole sauce was excellent).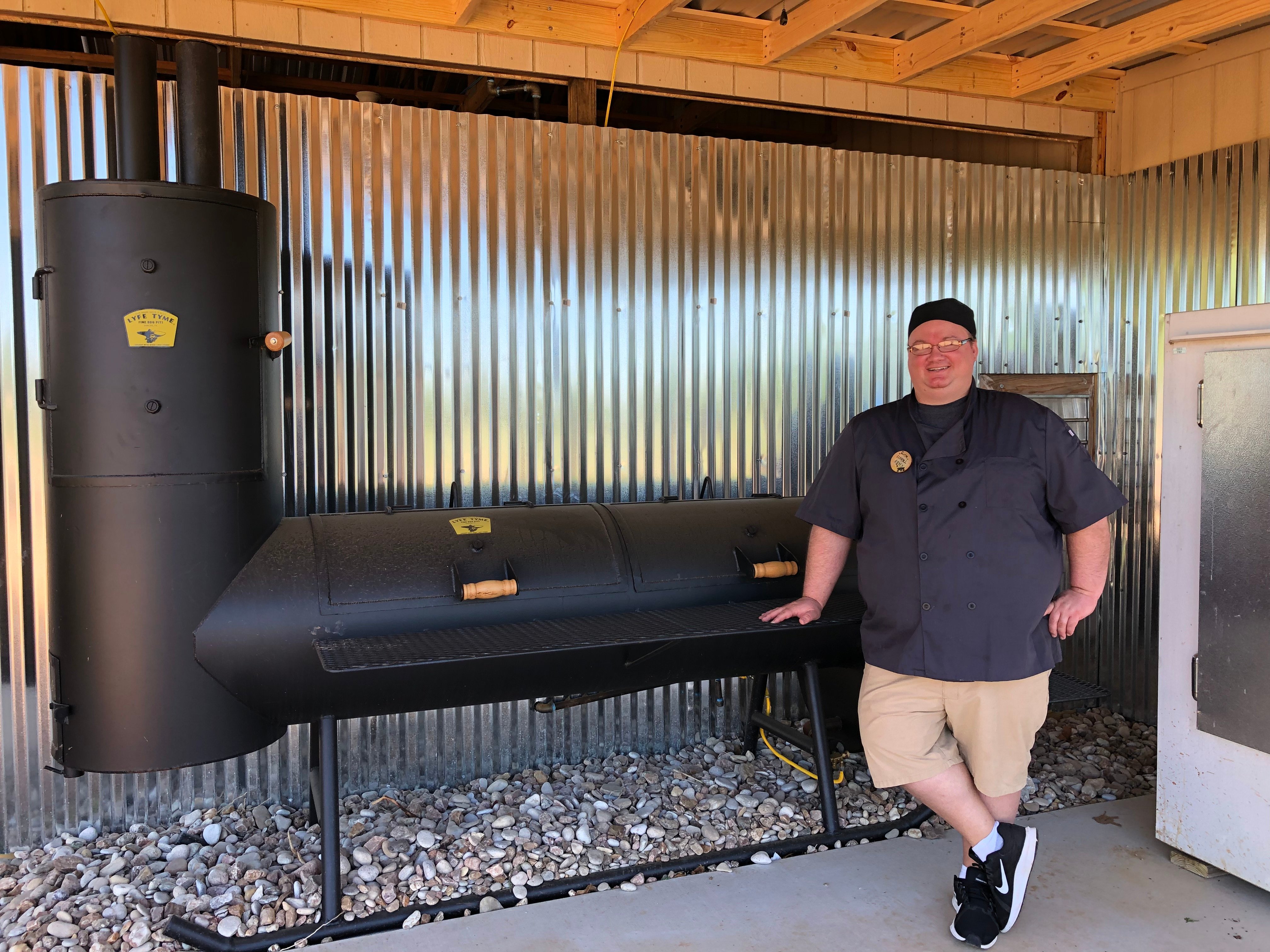 He manages a sizable team of summer employees and full-time staff. They respect and appreciate him.
This summer brings an entire new level of challenge. All of which he has embraced.
The State of Texas requires that we serve everything to campers. I mean everything, not just items on the main line. You want a salad? Someone needs to build it for you. Refill a water pitcher? That also requires a designated person.
Usually, we have the campers in the second year of the Senior Camper program help in the kitchen as part of their "service" requirements. This normally entails a little food serving, but lots of help with dishes. This summer, Chef Travis needs to coordinate roughly 20 high schoolers into teams of servers – complete with gloves, masks and hats. We love having the Senior Campers do this for two reasons. First, it gives them a chance to model service and giving. Second, it allows our kitchen staff to have essentially no interaction with people inside the "camp bubble", thus helping keep virus out of our lives.
Oh, and he has to do this 6 times a day: 2 breakfasts, 2 lunches and 2 dinners.
Yup. In order to allow for proper physical distancing, we are eating in shifts. Every other table is empty during each shift. We switch the serving team each shift as well.
So, to summarize, he cooks for 550 people . . . with 6 seatings . . . with two teams of 20 of servers that rotate . . . while managing a kitchen team . . . and happily helping any camper with a special dietary need.
I think that sounds like a Champion to me!
Steve Sir