While we already think camp is already a beautiful and fun place to be, we aim to get better year after year. Almost four years ago now, we built the Pirate Ship, a three-story ropes course with scads of cool elements – but we didn't stop there. We added new elements every year and built the awesome ship front and hull around it. We don't stop at "cool" or "good enough." We go for amazing.
The pool debuted in 2008, complete with Schlitterbahn-style waterslides and giant inflatable pool toys. But that wasn't enough, either. So in 2013, we added our lazy river Spin Cycle. We had a brand-new climbing wall this summer with added challenges and an extra-long zipline over camp, last summer's three-story tower at the swim bay because we wanted more than globs and a two-story waterslide… And our youngest boy campers loved their new cabins decked out with cargo nets, gaga, and a personal Rookie-sized slide.
Well campers, guess what – there's MORE!
This year, we will have not one but TWO updated bathrooms. The boys' Locker Room will get a total overhaul, as will the girls' Beauty Saloon. You ask, so we deliver. There will be more shower stalls, improved plumbing and drainage, and a much cleaner look. We know it's been a long time coming, so we're excited for the change.
We're also building a new addition to our wall and ropes courses. Connected to the climbing wall, it is a complicated jungle-gym like climbing structure, with both low and high ropes elements criss-crossing throughout the structure. It'll be sort of like the Pirate Ship, but unique too: instead of picking a level and travelling horizontally, you can choose different paths and courses through a blend of new climbing wall and ropes elements to climb vertically to the top of the tower. We're calling it the Texas Two Step – many of the elements will require teamwork in pairs. Here are some examples of similar towers across the country, but ours will be a little different than each of them.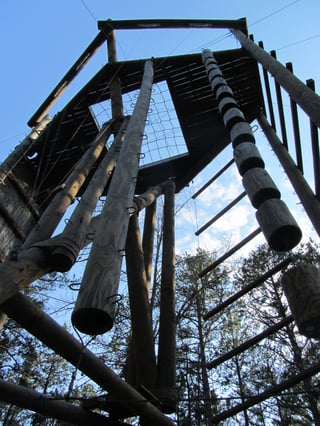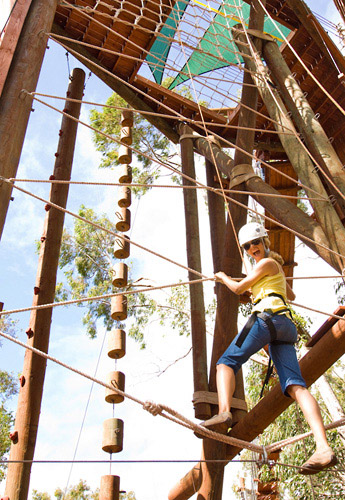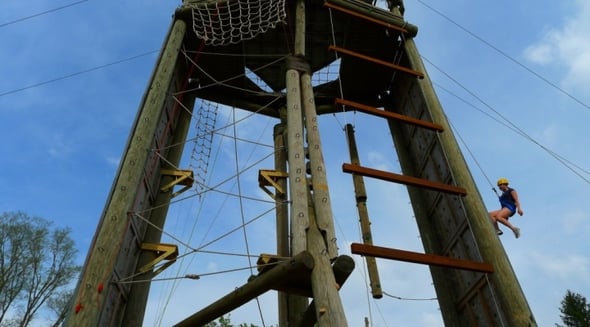 Photos of "Tango Towers" (c) Experiential Systems Inc.
While you wait to climb the wall or the Texas Two Step Tower, you will still get to climb. We finished our bouldering wall! On this challenge course, you are close enough to the ground (which is cushioned by rubber chips) that you can climb without a harness. The goal is to travel horizontally across the wall, sometimes following specific courses, sometimes going wherever you want. Do you think you can make it?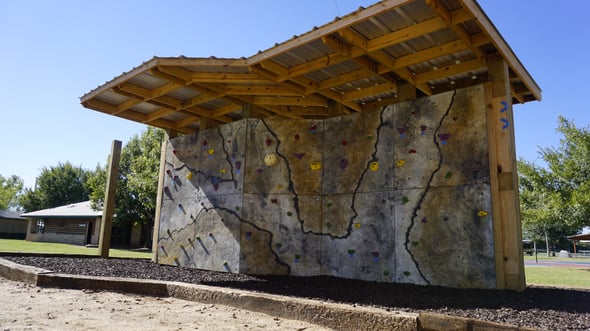 You'll probably notice some changes in the fare at the Fillin' Station next summer. We love our campy food, but we know there's always room for more options and improvements. Keep an eye out for toasters, bagels, yogurt, and berries at breakfast, deli-style sandwich options and hummus on the salad bar every day, and some special new meals and treats we'll share when you get here.
Finally, some of our older Rookies were disappointed they didn't get the chance to start their camp experience in the playhouse-style new Rookie cabins. Next year we will have three more brand-new cabins on boys' side, complete with their own extra toys and perks.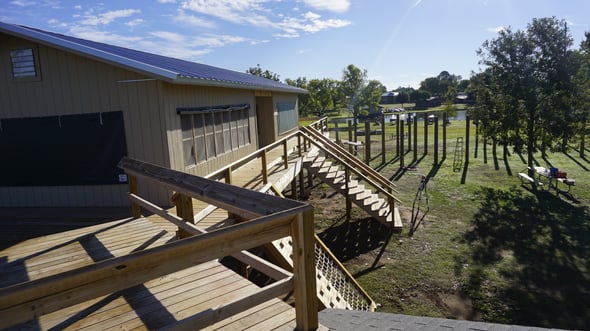 See the posts? Those are the foundations for three new cabins!
We think ahead here at camp as well. In two years, we plan to unveil a new Fine Arts Center. This is why we are building new cabins on the boys' side: we'll be tearing down the old ones to make room. We can't give away too much yet, but we are partnering with dedicated architects to design an open-air creative learning facility with a dance studio, pottery wheels, wood and leatherworking shops, and an overall fun treehouse design to climb and explore. We hope to have sketches by next summer, and we can't wait to share them with you.
So when you think about camp for next summer, there's even more to be excited about than usual! What are you looking forward to the most?
Want more like this? See: http://blog.campchampions.com/striving-to-improve