Best Summer Camps San Antonio 2014 Guide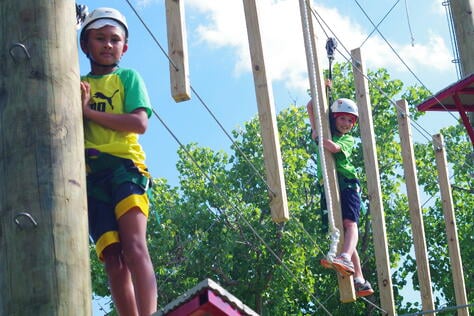 Summer camp is one of the most fun experiences children get to have every year. Who wouldn't want to spend two or three weeks living lakeside in a cabin with 12 of your best friends nestled in hilly Texas wilderness. Not to mention, camp is one of the most developmentally rewarding experiences for children as early as five or six years old all the up to teenagers. This post is not about the benefits of camp but you can read a lot more about the youth development, character building and critical skills camp provides if you are interested.
We have provided a list of the best summer camps in the San Antonio area. San Antonio is lucky enough to be very close to the Texas Hill Country which is home to many of Texas' traditional overnight summer camps. The Hill Country offers cool streams, large lakes, rolling hills, and miles of trails to explore. Let's not forget the higher elevation to keep summer a little bit cooler than the city. There are also a couple options for summer camps just North of San Antionio outside the Hill Country setting, but still on pristine locations.
This list highlights traditional overnight summer camps for boys and girls. There are several resources to help you refine your search for the right sleep away camp for your family linked at the bottom of the post.
Best Central Texas Summer Camps
URJ Greene Family Camp | Bruceville
URJ Greene Family Camp is a coed Reform Jewish summer camp that serves kids entering 2nd grade to 8th grade at its Main Camp and kids 9th through 12th grade in its High School program. Greene Family Camp offers 3 week term options as well as half term sessions. The camp overs of 60 activities campers can choose between balancing both skill development and personal enjoyment.
Learn more - http://greene.urjcamps.org/
T Bar M | New Braunfels
T Bar M is a non-denominational, Christian summer camp that serves girls and boys in grades 1 through 11 at two separate properties. T Bar M runs a teenage adventure camp for children in grades 7 - 11 at its Lake Travis property. There is an overnight Sports Camp for campers in grades 1 - 6 where they can choose from 11 specialty sports programs. Both camps offer 1 week terms.
Learn more - http://www.tbarmcamps.org/
Best Summer Camps Texas Hill Country
Texas Hill Country is the heart of the Texas Camp industry. To see a full list of the best overnight camps in the Texas Hill Country, see the full post here.
Camp Young Judaea Texas | Hill Country | Wimberly
CYJ Texas is a coed Jewish camp that serves children who have graduated from 1st through 8th grades. CYJ offers one, two and three week terms. CYJ has a strong commitment to strengthening Jewish identity, strengthening devotion to Israel and developing strong leaders who forge lifelong friends at camp. CYJ has over 45 activities for campers to choose from including new selections like advanced tennis, yoga and magic tricks.
Learn more: http://www.cyjtexas.org/
Vista Camps | Hill Country | Ingram
Camp Rio Vista foy boys and Camp Sierra Vista for girls are brother sister camps that sit on the shores of the Guadalupe River and together, make up Vista Camps. Vista Camps has a strong heritage of tradition dating back to the 20s and long family tradition and experience in running summer camps. Vista Camps is a non-denominational Christian camp. Campers have over 40 activities to chose from on a rotating daily schedule.
Learn more - http://www.vistacamps.com/
Camp Champions | Hill Country | Marble Falls
Camp Champions is a traditional summer camp for boys and girls aged 6 - 17. It is located on the shores of Lake LBJ in the heart of Texas Hill Country. Champions offers over 40+ activities to campers in four activity areas including, sports, outdoors, waterfront and fine arts. Champions mission is to help every camper become the champion God intended him or her to be. With a high community building and youth development orientation, Camp Champions focuses on provided lasting character building experiences.
Learn more - http://www.campchampions.com/
Good luck finding the right camp for you. As mentioned above, there are several more camps to choose fom in the Texas Hill Country. Be sure to click the link to read more. If you are interested in more resources to help you find the best summer camp experience for you child, we have provided additional resources for you:
Some helpful blog posts:
Summer camp reviews - Finding the best summer camps by talking to people and getting reviews.
What is an ideal summer camp term length - There are many term length options. Learn more about your best fit.
Religious camps - Learn about different religious camps, the programs they offer and advantage of going to an affiliated camp.